Animated Froggies : Page 1
---
This frogline was animated by Yvon Laroche.
This one's by Mark Davis.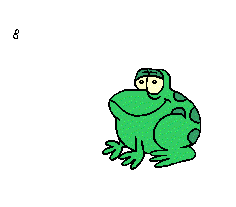 This froggy came from the REnet web page.
The frog below came from Dr. Frog's Killer Web Space. Check this site out for more cool animated froggies!!
---
Back | Next
Froggy Animations Page
---
Do NOT make direct links to individual image files. Please copy the files you want to your own server instead.
To download, first click your left mouse button (or on a Mac hold the mouse button down until a pop-up menu appears.) Then using the right button of your mouse choose "Save As" and save it to your local drive. (Don't forget where you put it!)
Be nice! If you use any of these images on your pages, give credit to whoever designed it! In some cases you'll need to check with the originators for permissions etc. for using the images!