Frog Of The Month
This Month's Featured Frog is:
Bugsy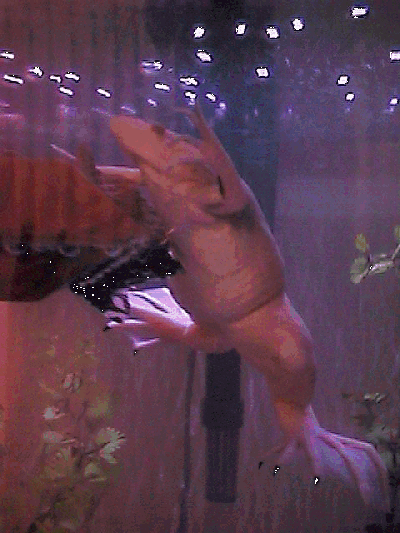 Here is a photo of "Bugsy". Bugsy is a two-year-old Albino African Clawed.
Scott & Vicky Edwards are the proud owners of this big guy, and they say he is a spoiled brat. Above, Bugsy hangs out in the meditative "ZEN" position.

You can read more about this type of frog here.

You can send Scott & Vicky an email at: SAE486@aol.com

IN MEMORY OF BUGSY....
recent news:
I'm writing to inform you and anyone who may be interested that Bugsy, a frog-of-the-month just died. He had internal swelling and possibly a tumor for about 3 months now. With treatment it regressed a couple of times, but it wasn't enough. He was active and 'normal' up to the end. His last hour was spent swimming slowly around his tank. He really enjoyed all the e-mail he recieved after being spot-lighted on your site. Thank you and everyone who wrote us letters. Bugsy would have been 4 next March.
Scott & Vicky

We're all sorry to hear that. Bugsy will remain enshrined online.



---
Other Previous Frogs of The Month
---

If you'd like to have your frog featured as Frog Of the Month,
please read the Frog Of The Month! Entry Instructions