Frog Of The Month
This Month's Featured Frog is:
Grover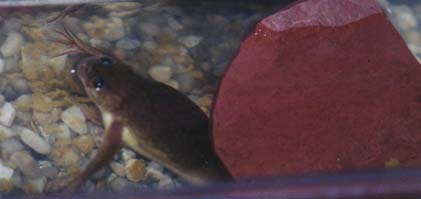 Grover is an African Clawed Frog that belongs to Li.
Li writes:
My frog's name is Grover, and I've had him for almost 2 years.
There used to be a Snuffy, but he was an impressive escape artist and wandered into my apartment -
not an environmentally safe place for an aquatic frog.
But anyhow, it's just me and Grover.
He is a very happy (I hope) little guy, who commutes back and forth with me from school (upstate NY) to home (NYC). He sings on occasion, which tends to be somewhat annoying, but also sort of nice.
To read more about African Clawed Frogs, hop to the Species Caresheet!
---
Other Previous Frogs of The Month
---

If you'd like to have your frog featured as Frog Of the Month,
please read the Frog Of The Month! Entry Instructions