Frog Of The Month
This Month's Featured Frog is:
Merlin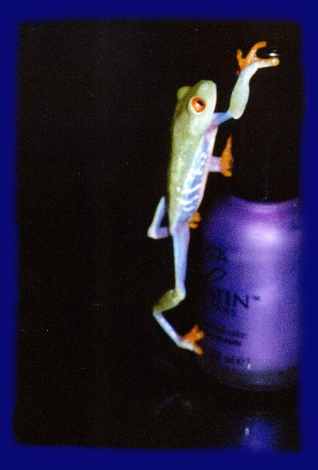 This is a red-eyed tree frog named Merlin.
Merlin is one of 3 pet frogs belonging to Natalie Benitez. Her other two frogs are green tree frogs. Natalie writes that Merlin loves to be carried and hangs out pretty much anwhere you place him.
Merlin is pretty excited about being the first Frog of the Month for the year 2000. As you can see, he even got a manicure for the occasion!

You can read more about this type of frog in the Red Eyed Tree Frog Species Caresheet.
---
Other Previous Frogs of The Month
---

If you'd like to have your frog featured as Frog Of the Month,
please read the Frog Of The Month! Entry Instructions