Frog Of The Month
This Month's Featured Frog is:
Kermit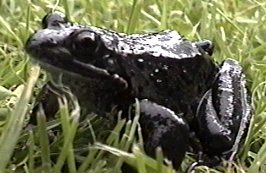 Kermit belongs to Rachel Darke.
Rachel writes:


I didn't know that frogs could get so big!

Kermit is a common frog, he is quite funny because one day when we had him out, he jumped up my dads trouser leg. I know he looks like an ordinary frog but he's one of my favorite outdoor pets!!
---
Other Previous Frogs of The Month
---

If you'd like to have your frog featured as Frog Of the Month,
please read the Frog Of The Month! Entry Instructions