Frog Of The Month
This Month's Featured Frog is:
Sprout!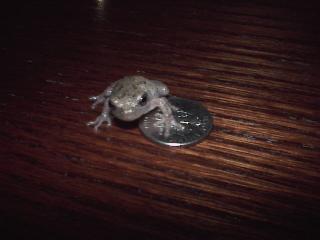 This little guy is one of Megan Gerding's special babies!
Sprout is a teeny Grey Tree Frog... You can read more about Grey Tree Frogs here.

Megan writes:
I rescued him from a restaurant near my house.. One of my friends was sweeping up around back and I say him hop out of the pile.. I scooped him up and took him home because his leg was broke off.. with all my love and care he now have four perfectly fine legs... he's still really tiny though.. the size of a dime...
Megan also invites anyone who needs "advice on getting a frog, buying a frog, and making their frog happy" to send her an email!

You can send email to Megan at: glitter72@fcmail.com
Check out Megan's Homepage!



---
Other Previous Frogs of The Month
---

If you'd like to have your frog featured as Frog Of the Month,
please read the Frog Of The Month! Entry Instructions