Frog Of The Month
This Month's Featured Frog(s) are:
FrogWichie

FrogWichie, seen here with Tyler Wieknam.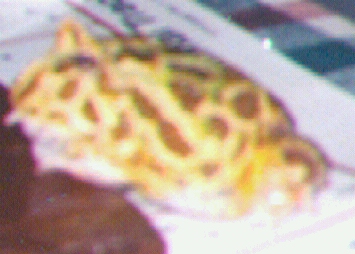 Another shot of FrogWichie
FrogWichie is an albino Pac Man frog, also known as an Argentinian Horned Toad. Tyler writes, "He is fat, eats mice, likes T.V., and sunlight. He's 2 and 1/2 years old. His birthday is December 20."
You can read more about this type of frog here.
Tyler lives in Ohio, and unfortunately has no email address.
---
Other Previous Frogs of The Month
---

If you'd like to have your frog featured as Frog Of the Month,
please read the Frog Of The Month! Entry Instructions