Neat-O Frog Stuff for your Computer!
---
Having computer troubles with downloading files?
Click here for Computer Help!
---
Psychedelic Frog Screensaver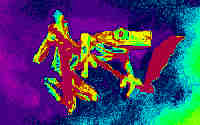 A friend of mine developed this cool program, and I made some screensavers with it. This is a free demo to show you one of the neat things you can do with Elliot's Spectrum Shift Designer program.

It's a really pretty screensaver that cycles colors through a frog that appears to be floating in space. If you like the demo, go check out the Designer program because it lets you choose what your screensavers will look like, including using images of your own as well as using some of the available drawing tools within the program itself.

(NOTE: If you have already downloaded the actual program DO NOT download this demo. This demo only allows for the screensaver function, which means it won't time-out, but, you won't be able to make your own neat-o screensavers. There is a bmx file of this frog available at the Spectrum Shift Designer Web page if you want the whole package.)


Download the Psychedellic Frog Screensaver (375KB) into the directory where you want it. It's a self-extracting file, so run the program and it will put all the stuff you need in that directory. Then just run setup and it should do the rest for you. (You can then run the screensaver from the Control Panel (Desktop) by choosing the Spectrum Shift option.)
---
Other Cool Frog Screensavers
Way cool Poison Frog Screensaver!!! Check out Fashley's Poison Frog Page to read about his great Poison dart Frog Screensaver: little poison dart frogs hop around on your screen, erasing the background as they go!
Download Now! (977kb)

---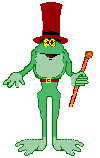 See the little dancing guy on the right? Check out Fashely's Froggy Screen Saver to have him doing a jig on your screen!
Download Now! (1,041kb)

---
Back to Frog Computer Toys.
Back to FROGLAND.