HELP!
Technical Support for the Novice Computer User.
Sound Files:

Clicking on sound files should automatically launch the Netscape player and all you will have to do is hit the play button (thats the arrow button in the center) and it should play.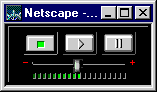 If it doesn't work even though you see this player, you may not have a sound card or your speakers might not be plugged in.
If you know for sure that your soundcard should be working right, then you may choose to download the file or associate the file with the regular wav player that comes with windows. Note, this will only work with files with the .WAV file extention because .AU extensions are associated with the netscape player.
If you don't get this player but instead get a box that is titled "Unknown Filetype" see the instructions on downloading a file. See Also:
---